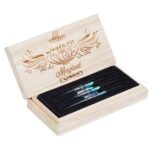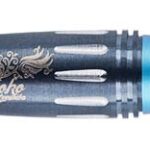 Magical FUSION
$220.00
Max Dia : 8.0mm
Length : 43.0mm
Weight (Barrel only) : 16.5g
Magical × Miracle
In parallel with the signature model "Magical" of Sakiyoko Yoshiba, "Magical Fusion" is newly released as a Fusion model.
By designing the rear side with titanium, it becomes a barrel with a more front center of gravity.
The maximum diameter is 8.0mm, which is thicker than the "Magical", creating a unique "Magical Fusion" fit.
The wooden box package and the barrel body are engraved with the design of Yoshiba's trademark feather, leaving her image up to now, black coating and chic
The design uses a green titanium color to find a cool, elegant new side.
Her magic continues to advance with 3rd place in this season, 2nd in JAPAN LADIES ranking (as of August 2018).
1 in stock