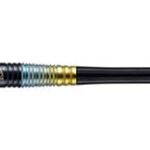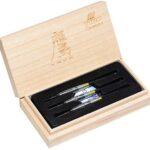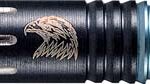 FUSION Taka
$220.00
Max Dia : 7.5mm
Length : 44mm
Weight (Barrel only) : 16.5g
Hirose Takahisa's 90% tungsten model "TAKA" was converted to a FUSION model.
Arranged for players who prefer front center of gravity based on "TAKA" as a basic base
The cut is almost unchanged and the overall length is set longer.
By setting the position of the center of gravity forward, despite its light weight of 16.5g, It can be pushed strongly.
The titanium part has a choice of yellow, which is the player's favourite color, and light blue, which gives off a sky of possiblity.
The contrast with black-coated tungsten gives a sophisticated and cool impression.
1 in stock